About volunteering in Mossuril & Milange
All our projects operate with the valuable help of international volunteers. Since 2004, 130 volunteers have joined us in Mossuril and Milange Districts. Some volunteers stay for two weeks, some stay for 3 months and some come for one or two years. From January 2013, all volunteers will stay at Sunset Community Guesthouse.

The College can give study monitoring for credits for students who include volunteering with us as part of their course work
Gap-year students can combine the adventure of part-time volunteering at the College with enjoying Mossuril's stunning beaches and exploring its 1000-year old history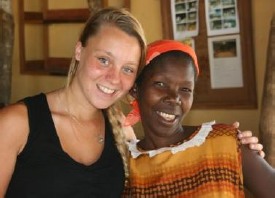 Because we work embedded in isolated villages there is a unique opportunity for volunteers to see Africa from the inside. We need willing hands to help guide our local staff and students and we need specialized volunteers e.g. in tourism, healthcare, nursery teaching, market gardening, micro finance, teaching English, basic maths, Portuguese, I.T., book-keeping, carpentry etc. Minimum volunteering is for 2 weeks, maximum stay is for 2 years.

Because our projects are so varied, we find there is something for everyone here and whatever the project or task, it really makes a difference.

Some previous volunteers testimonials: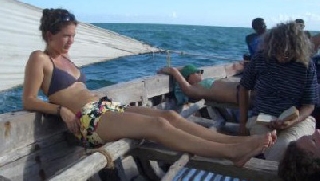 Marna: "It's so cool to arrive in the dark at the College. It was lit with torches and oil lamps, like going back a few hundred years in time. I'm going to teach. I had no idea what exactly this would mean. I have a little class of 5 women and one boy. They cannot read or write very well. Some know how to write Arabic. They speak Macua fluently, but just very little Portuguese... After the lessons I went to the beach with Mauro, an Italian guy who stayed here already for 5 months. The beach is really unbelievably beautiful. A cold drink is like a present from heaven."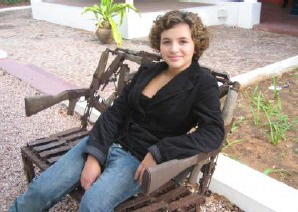 How to Register
Send us a letter saying why you want to volunteer with Teran Foundation and what, if any, particular skills you have. Email to info@teranfoundation.org and ask for a registration form.
Costs
€ 330 to register and € 600 per month per volunteer. There are group discounts and reductions for long-term volunteers. Volunteer fees cover transport to and from Nampula Airport, basic accommodation, 3 meals per day, laundry, and free entry to weekly College entertainment, plus a donation to the College's community health and education projects
For more volunteer information
Email former volunteer Charline in Amsterdam:
charlievandeth@hotmail.com